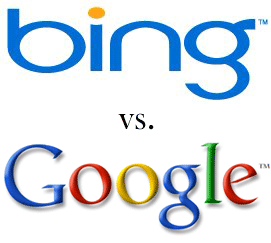 Microsoft thinks it has found a way around Google's dominance of search engine marketing, a way to make its Bing search engine a winner.
Money.
Microsoft has suggested to high web site traffic news sites that they get unlisted from Google, by writing robots.txt files that keep them out of Google's index, in exchange for Microsoft cash and placement on its Bing search engine.
If Microsoft is ready to take the next step, and build something like Google News for those sites it's paying for placement, with enough online advertising to make up its costs from paying for links, then the search competition has a new front.
Bing may finally have a chance.
Let's say a news site makes enough from a page view that they can pay their employees. The more page views the employees' content generates, the more money they make, and the more money the website makes.
Now what if that news site decided to take Microsoft up on its offer, and the employees' stories disappeared from the Google?
The news site would take a short-term hit to their web site traffic, and they would lose money.
But Microsoft might use co-op advertising to try and bring this web site traffic back to the news site, running ads reading, say, "read so-and-so's article, only through Bing," maybe with that employee's picture. Some of these ads would run on the news site, so in addition to the link payment there's online ad revenue coming in to the publisher.
Now let's assume that, instead of compensating the employees based on page views, the news site just paid them a straight salary, and divorced them from its business model. Now its search deal with Microsoft becomes none of the employees' business, just as its relationships with the advertisers on their page are none of their business.
Maybe the employees will get a raise, but that decision won't ride on their web site traffic but the news site's view on the employees' writing, on their editorial contribution, and on how they help make the site look good.
You start to see how this works. But it starts with Microsoft getting its investment back. Can it generate enough online ad revenue from general news searchers at Bing to make up for whatever it pays News Corp., ZDNet, or any other content provider?
And how might Google then respond? Will it add video ads to Google News, and share that revenue with the sites who link to it? Will we then have to use two news search engines in order to find out what's going on in the world? Only time will tell.